Santa Claus Lane Gift Shop will be open to children ages 2 through 12  for the following dates:
December 4 through 23, 2020.
For everyone's protection, shopping this year will be by appointment only. Everyone must wear masks that cover both nose and mouth. Call 717-567-6860 to make an appointment for your children to shop.
When you arrive for your appointment, please knock on the back door for entrance. Parents will wait separately while children select gifts for family members for $1 for each gift. Gifts will be wrapped, and children will return to their parents with gifts ready to give.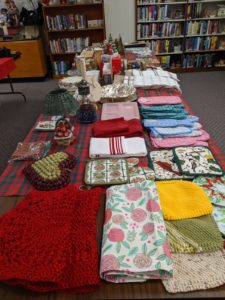 Parents may download and print this form to pre-fill out their children's gift lists.
This will save time at the library.
All proceeds for this event benefit the Friends of Newport Public Library, a 501(c)3 nonprofit organization that exists solely to support the Newport Public Library.